Back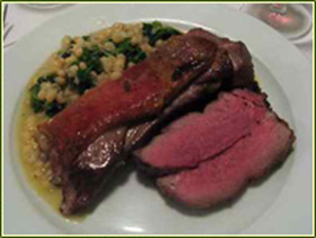 ROAST KID
Rub the meat with olive oil. Sprinkle with herbs, marjoram, rosemary and thyme. Wrap in foil or in a roasting bag, and put in an oven on a medium heat [165C].
Cook for 30 minutes per 500gms of meat, plus 30 minutes. Make a sauce by chopping onions, celery, parsley, thyme and a bay leaf. Place them in a pan with 750mls of stock or water and simmer for 20 minutes. Heat 25gms butter in a pan, add 25gms and stir until brown.
Strain the stock and add to the browned flour. Stir until stock thickens, then simmer for 10 minutes.