Back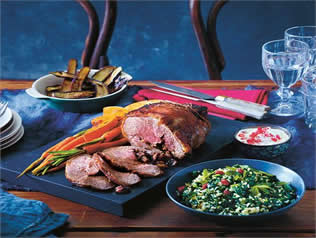 Spiced Goat Shoulder
1 goat shoulder, deboned and trimmed of fat (1.2kg)
6 cloves garlic, chopped
1 tsp Cinnamon
1 lemon, zested and juiced
1 tbsp harissa paste (or 1 tsp chilli powder)
1 tbsp olive oil
¼ cup raisins
½ butternut pumpkin, cut into 2cm slices
8 baby eggplants, halved lengthways
3 bunches baby heirloom carrots, peeled, stalks trimmed to 4cm
Cranberry & kale quinoa
1 cup quinoa
3 cups Tuscan kale (cavalo nero) or spinach, finely shredded
1 tbsp olive oil
2 tbsp orange juice
¼ cup dried cranberries
¼ cup mint leaves
Greek yoghurt and pomegranate seeds, to serve
Preheat oven to 200oC fan-forced. Place garlic, cinnamon, lemon zest and juice, harissa and oil in a large bowl and mix to combine. Spread half the marinade all over the goat. Sprinkle raisins over the inside of the goat and roll up into a log. Tie firmly with kitchen string at 2cm intervals to enclose. Place goat in a roasting tray and toss pumpkin, eggplant and carrots in the remaining marinade and place around the goat.
Roast goat in oven for 40 minutes or until it begins to brown, then reduce temperature to 160oC and cook for 20 minutes per kilogram of goat for medium or until cooked to your liking. Rest for 10-15 minutes, remove string and slice.
For quinoa, cook according to packet directions. Place kale on top of quinoa to steam for the last 5 minutes of cooking and replace lid. Stir kale through quinoa. Add olive oil, orange juice and cranberries and stir to combine. Scatter with mint just before serving.