Back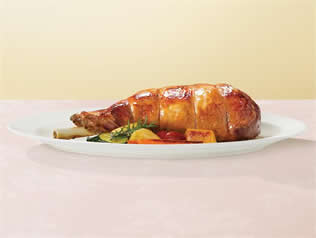 Honey Roasted Goat and Vegetables
1½ kg easy carve lamb leg
2 tbsp warm honey
400 g pumpkin, peeled and cut into large chunks
600 g potatoes, peeled and cut into large chunks
1 bunch baby carrots, washed and trimmed
2 large zucchini, cut into thick slices
2 large red capsicums, cut into large chunks
2 tbsp oil
a few sprigs of rosemary (optional)
Preheat the oven to 180°C. Place lamb in a roasting dish and season with ground pepper and salt.
Roast for 60 minutes for rare, 75 minutes for medium, or 90 minutes for well done. In the last 15 minutes cooking time brush the lamb with the warm honey.
Toss the prepared vegetables with the oil and rosemary sprigs and place on a tray lined with baking Remove lamb, cover loosely and allow it to rest for 15 minutes before carving. Serve with the roasted vegetables.